---
The Fire Services Act, 1947 made provision to transfer fire fighting functions from the National Fire Service to Fire Brigades maintained by the Councils of Counties and County Boroughs. In anticipation of this, applications were invited from serving members for supervisory posts in the new organisation and Mr. H. J. Reynolds, who was then the Fire Force Commander of the No. 3 Area of the National Fire Service was selected as Chief Fire Officer (designate) by the City Council.
On the 1st April. 1948, the City of Sheffield again became a Fire Authority, but with one important difference. Prior to the creation of the National Fire Service, the members of the Brigade were members of the Police Force and its head was a Superintendent who was responsible to the Chief Constable. Now the Chief Fire Officer was directly responsible to the Fire Brigade Committee and through them to the City Council.

There were five Fire Stations in operation in the City, but only the Central Fire Station Division Street, was a permanent Station: the rest were temporary. These temporary Stations were at Darnall Road, within some schools, in the old Civil Defence Camp at Norton, in a converted garage at Mansfield Road and in a war-time building at Elm Lane adjoining Cliff House. The strength of the Brigade was some 156 Officers and men.
The Fire Services Act 1947 imposed a duty on every Fire Authority to secure efficient arrangements for the giving when requested of advice in respect of buildings or other property as to fire protection; restricting the spread of fires; and means of escape in case of fire. As a consequence of this a small Fire Prevention Department was set up.
Sheffield Fire Brigade Establishment:
Fire Stations*
| | | | | |
| --- | --- | --- | --- | --- |
| Division Street | Darnall Road | Norton Lane | Woodhouse Road | Elm Lane |
*Former NFS Divisional Stations.
Personnel
| | | | | |
| --- | --- | --- | --- | --- |
| Chief Fire Officer | Deputy CFO | Firemen (All Ranks) | Admin Staff | Total |
| 1 | 1 | 166 | 5 | 173 |
In 1949 the Sheffield Fire Brigade was removed from the jurisdiction of the Sheffield City Council Watch Committee, and the new SCC Fire Service Committee was formed. Also, in 1949, when there was fear of another war, this time with the USSR. The Auxiliary Fire Service was reformed on a new organisational basis. This time, it was fully integrated with the wholetime brigade and worked with them at fires. Wholetime members also took part in exercises with the Auxiliary service using equipment kept in the local Home Office Stores to form mobile columns ready to move to any point of danger.
However, since the newly formed local authority fire brigades had need of the majority of the NFS appliances and equipment the AFS appliance fleet mainly consisted of Austin K2's towing Coventry Climax 240 gpm trailer pumps.

The response in Sheffield was excellent. Within two years over 200 men and women had been enrolled and trained, and by 1953 the numbers had grown to 360.
The AFS kept the uniform and khaki steel helmet of the 1939 issue, and likewise, the Sheffield Fire Brigade kept the same uniform and briefly re-adopted the pre-1941 brass helmet. However, these were quickly replaced in 1949 with the new glass fibre fire helmet, as illustrated in the photograph below.






Group photograph 1964, Blue Watch Division St, when the 1949 uniform and helmet was still in use.
Photograph courtesy of John Hague.
National Rank Structure for the new Local Authority Fire Brigades:
The new rank structure closely resembled that of the previous National Fire Service.
Title

Helmet Markings

Shoulder Markings

Notes

Chief Fire Officer
White Helmet with 1.5" Black Band



On lapel of jacket a gorget patch of black with a centre cord of red embroidered oak leaves.
Deputy Chief Officer
White Helmet with 2 x 0.75" Black Bands
On lapel of jacket a gorget patch of black with a centre red cord.
Assistant Chief Officer
White Helmet with 2 x 0.75" Black Bands
On lapel of jacket a gorget patch of black with a centre red cord.
Senior Divisional Officer
White Helmet with 1 x 0.75" and 1 x 0.5" Black Bands
Divisional Officer
White Helmet with 1 x 0.75" and 1 x 0.5" Black Bands
Rank Marking also used for Principal Fire Control Officer - Laurel and impeller set at half scale.
Assistant Divisional Officer
White Helmet with a 0.75" Black Band
Station Officer
White Helmet with a 0'5" Black Band
Rank Marking also used for Fire Control Officer - Impellers set at half scale.
Sub Officer
Black Helmet with 2 x 0.5" Red Bands
Rank Marking also used for Senior Fire Control Operator - Bars set at half scale.
Leading Fireman
Black Helmet with a 0.5" Red Band
Rank Marking also used for Leading Fire Control Operator - Bar set at half scale.
Fireman
Black Helmet with no markings
Markings also used for Fire Control Operator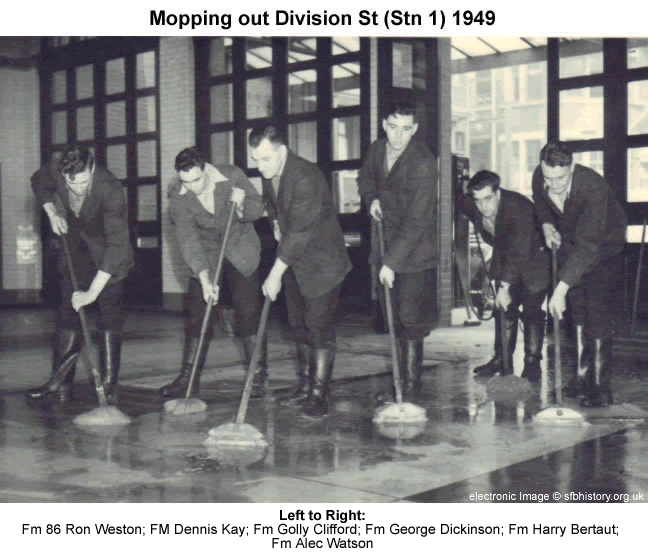 Also in 1949
The latest radio communication equipment was in­stalled for the use of Sheffield Fire Brigade.
This consisted of the most modern type of transmitters and receivers, and other more up-to-date equipment making possible clear direct contact between fire positions and the control room at the Central Fire Station.
An officer attending a fire could radio the fire call sign 'M TWO X.S.A' (M2XSA) to police headquarters, and be switched straight through to fire control.
The new 'radio set is was a quarter the size of the old one which previously took all the back seating space in fire radio cars. The operator's job was also simplified.
There were switches to work once the set is running and all the operator had to do is press a button on the top of a small hand mike to speak, and let it return automatically to receive.
---
On the 5th June 1950, Sheffield Fire Brigade lost its first Fireman since World War 2.
On 5th June, 39-year-old Fireman Colin Hill, of 125, Vincent Road, Sheffield. tragically fell from a tree whilst attempting to rescue a cat.
Fireman Hill turned out on a special service call to a cat caught in the top of a tree on a static water tank site at the rear of 88, Albert Road, Sheffield.
A special service team led by Leading Fireman J. A. Arnold reared a ladder against the tree. Fireman Hill mounted the 25 ft. ladder and on reaching the top climbed onto a branch of the tree. He got the cat in his arms and was making his way back along the branch. As he approached the head of the ladder there was a loud crack and he fell. His head struck a protruding branch 15 feet from the ground.
An ambulance was summoned but Fireman Hill was found to be dead on arrival at the Sheffield Royal Hospital.
He was the first Sheffield Fireman to lose his life in action since the end of the war.
"A very popular fellow" "A real pal" and "A great Fireman" were some of the comments of his colleagues at Division Street, Fire Station.
Mrs. Edith Allen, 48-year-old housewife, of 88, Albert Road, who saw Fireman Hill fall, told , a "Sheffield Telegraph" reporter that her 21-year-old son wanted to rescue the cat, but the police stopped him.
Fireman Hill joined the AFS in 1938 and became a full time fireman on the outbreaks of war. He served throughout the war and was called out to both Sheffield blitzes. He was transferred to 'Sheffield Fire Brigade in 1947 and was a hard worker for the Firemen's Benevolent Society, inaugurated during the war to assist widows of firemen who were killed on duty.
He leaves a wife and a two-year-old son.
Before becoming a firemen he was a wages and costs clerk.
Colin's death prompted the SFB to embargo all cat rescues from above ground.
---
Also in 1950
Sites were earmarked and plans prepared for the building or adaptation of Fire Stations, but unfortunately there were considerable restrictions on Capital Expenditure. However, in 1951 work commenced on the foundations of the new Fire Station in Darnall Road which was to replace the temporary one at Darnall Road Schools. Nevertheless, a twenty three year building programme had commenced which would culminate in Sheffield having 7 fire stations, all strategically placed to deal with any eventuality.
The utilitarian appliances of the NFS were either phased out, or re-painted, and 'fire engine red' was once again seen on the streets of Sheffield:
| | |
| --- | --- |
| GWJ 777 In NFS Livery (circa 1941) | GWJ 777 in Sheffield Fire Brigade Livery (circa 1948) |
---
1953 - Sheffield Fire Brigade CFO Retires:
Mr. H. J. Reynolds chief of the Sheffield Fire Brigade retired on September 30, 1953 after 29 years' service as a firefighter. He was 55.

A Portsmouth man, he attended the military school there and served throughout the 1914-18 war in the Royal Marine Artillery. He served in Huddersfield Police Force and Fire Brigade from 1924 until the outbreak of the Second World War, and was responsible for training auxiliary firemen. His first blitz experience was in Sheffield, and he also did firefighting work in the Liverpool and Hull blitzes.

When the fire brigade was nationalised, Mr. Reynolds became a Column Officer and later a Divisional Officer. In 1941 he was transferred to the Southampton area, where he had charge of all firefighting divisions before, during, and after D-Day. He was assistant Fire Force Commander for the Bradford area when he became Fire Force Commander for the Sheffield area in 1945 and continued as Chief of the Sheffield Fire Brigade on de-nationalisation. Mr Reynolds was awarded the King's Fire Service Medal in 1947. He was succeeded by Mr. B. Jones, who had been his Assistant Chief Officer.
---